ELECTRIC VEHICLE SUPPLY EQUIPMENT
In the near term, EVs will use the following three categories of EV supply equipment classified according to power levels and circuit requirements:
AC Level 1, up to 120-volt single-phase circuit with either 15-ampere (amp) or 20-amp configuration.
AC Level 2, 208-volt to 240-volt single-phase circuit with an 80-amp maximum, but often using 40-amp rated circuits.
DC fast charger, converts AC power levels rated at 208 volts to 480 volts (3-phase) to DC power to deliver up to 50 kilowatts at the EV's battery voltage.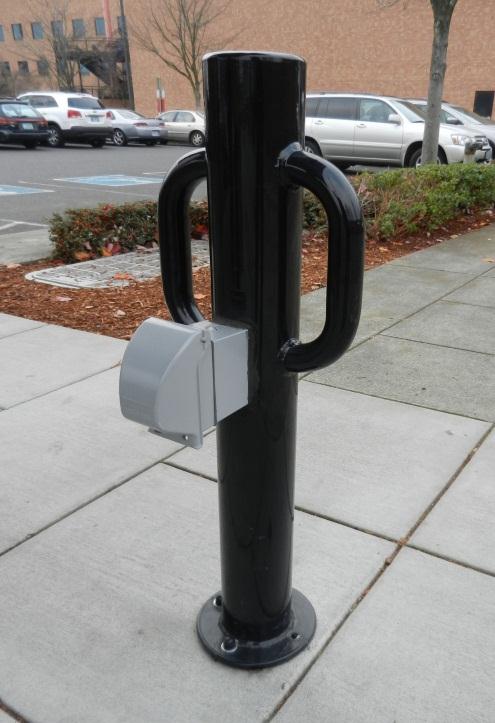 Level 1 EV supply equipment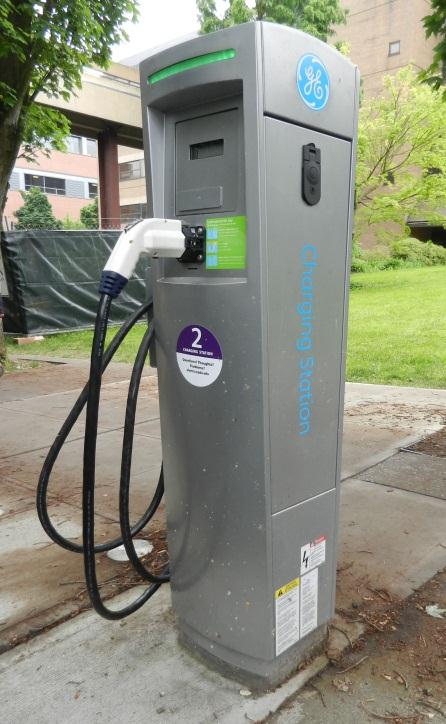 Level 2 EV supply equipment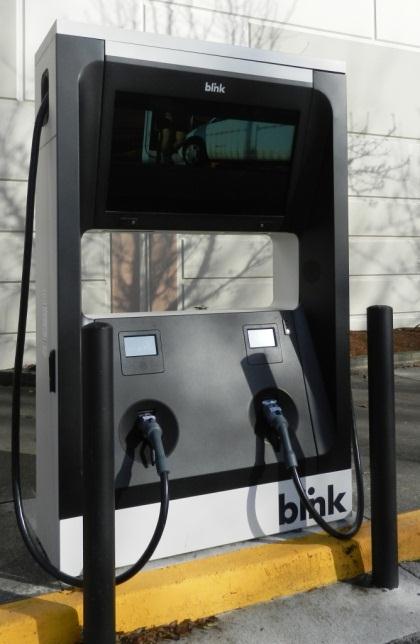 Both Level 1 and Level 2 EV supply equipment are sometimes called EV chargers – but technically speaking, they are not. Their main purpose is to deliver power to a vehicle's charging module, or charger. Electric cars all have charging modules on board that convert the EV supply equipment's AC power to DC and deliver it to the battery according to manufacturer-specified rates (typically expressed as kilowatts). In contrast, a DC fast charger bypasses a vehicle's on-board charger to directly deliver power to the vehicle's battery.
EV at Level 1 EV charging station
Level 1 EV supply equipment can recharge the battery of a standard electric car within 4 to 6 hours if it is driven less than 30 miles per day. For Level 1 charging, vehicles plug into a typical electrical outlet (NEMA 5-15R or 20R) using a portable cable set supplied by the vehicle manufacturer. Most new electric cars are equipped with a Level 1 cable outfitted with a J1772 connector that plugs into the vehicle. This is the same connector used for Level 2 charging. Since 120-volt circuits are so ubiquitous, Level 1 EV supply equipment is the easiest and least expensive type to install.
Level 1 charging is less useful for completely recharging large battery packs found in trucks and many electric cars. Fully depleted, a 24-kilowatt-hour battery could require Neighborhood EV at Level 1 EV charging station 4 Sustainable Transportation Strategies J1772 connector 15 to 20 hours to charge using Level 1 EV supply equipment.1 Level 2 EV supply equipment can fully recharge the same battery in less than 4 hours.
Level 2 EV supply equipment operates on circuits with a capacity similar to those that run appliances, such as electric ovens and clothes dryers. Some Level 2 equipment used at commercial sites runs on circuits rated at up to 80 amps. Level 2 EV supply equipment and DC fast chargers have the charging cable and connector permanently affixed. Various designs of Level 2 EV supply equipment can attach to ground surfaces, walls, posts, poles, and ceilings.
The majority of EV supply equipment being sold can charge one vehicle at a time but models are available that can connect with two to four vehicles at once. In some cases, single units have connectors for both Level 1 and Level 2 charging. Most Level 2 EV supply equipment installed in the past few years utilizes simple cable storage where the cable is manually wound around a holder attached at the bottom or side of the unit. Some styles include cable management systems where the cable retracts back to the unit at a height where the cable can be suspended rather than lying on the ground during operation. Pedestal units that suspend the cable during use are necessarily taller than those that do not.
DC fast chargers will be important to drivers who need to quickly recharge their depleted batteries. Using DC fast chargers, most vehicles will recharge up to 80 percent of capacity in 30 minutes or less. DC fast charging is just beginning to become available to consumers in the U.S., and it appears that two charging standards will be in use.
Two companies offer fast charging inlets as an option on their vehicles imported to the United States: Nissan and Mitsubishi. Both use the Japanese CHAdeMO connector
The Society of Automotive Engineers is expected to adopt a different standard in 2012, a modification of the J1772 connector that will support DC charging as well as Level 1 and Level 2 AC. Three major U.S. automobile manufacturers and five manufacturers from Europe plan to use this "J1772 combo connector" starting in 2013.3 Several brands of EV supply equipment offer advanced electrical metering that tracks power usage as well as communication network connections to transmit power usage and other data.
Networked EV supply equipment can perform a number of services. Drivers are able to remotely check on the status of networked equipment, determine where units are available, and make reservations. Networked EV supply equipment with meters can support "smart grid" applications. As an example, utilities can send signals that reduce EV charging when grid loads are high or initiate charging when electricity costs are low. Better control of electrical flow by location and time is likely to make smart grid applications profitable for both utilities and consumers.
For Detailed EV Charger Info Please Contact Us:
Contact Us